A Lot Of Family History In This Old Car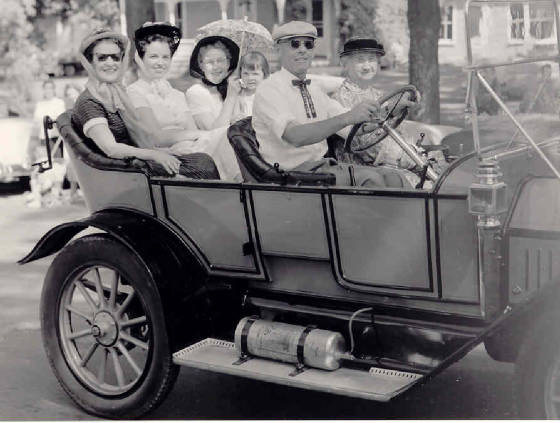 Aunts, Wife. Mother, Neice, Father and Grandmother
Shown above during a parade in Caribou are (LtoR) Viva Merritt, Aunt, Zelma Merritt, Wife,Doris Merritt, Mother, Kim Perrault, Neice, Ford Merritt, Father, and Susan Merritt, Grandmother. All except Zelma and Kim are now deceased.
WHERE OH WHERE DOES TIME GO....
Pictured Below Are Some Scenes Of My Home Town
Grand Falls, NB, Canada
Many Are Familiar And Much Has Changed.
Come With Us For A Visit!
A Favorite View Of The Falls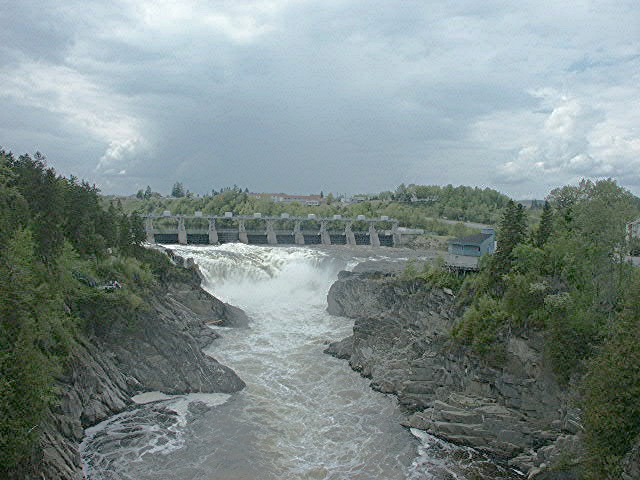 Where Waters Thunder Unceasingly!
Right At The Precipice Of The Falls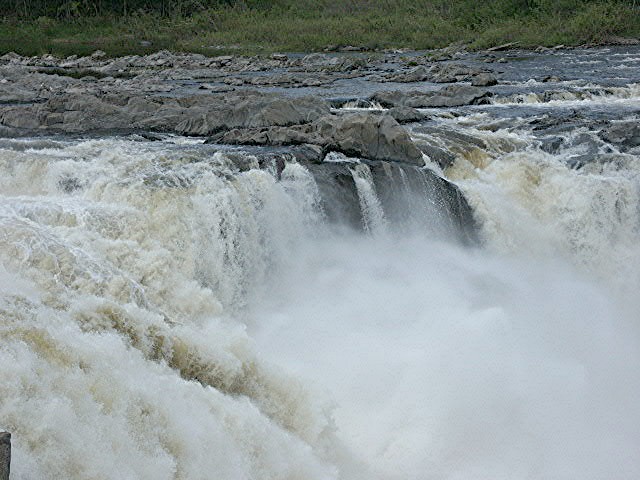 Grand Falls, NB, Canada
A Cloud Of Spray Rises In Mid Air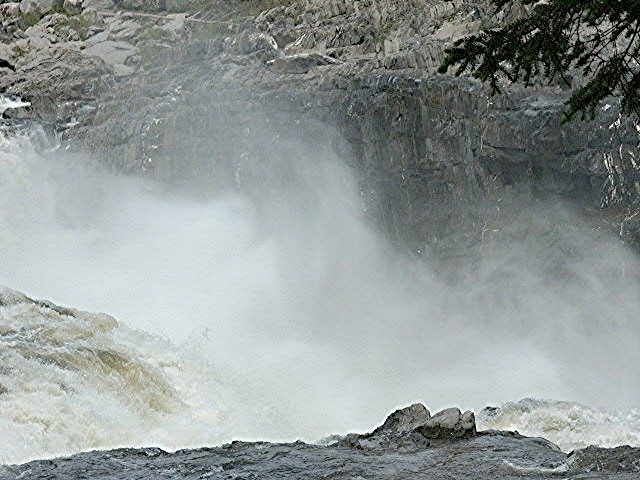 From The Falls And Rocks Below
The Farm House Where I Was Born And Brought Up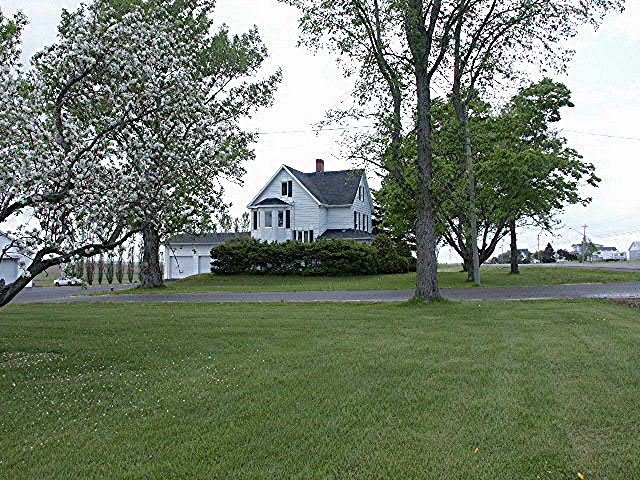 Drummond, (Grand Falls) NB
CHARLES F. MERRITT, Photographer
(My Grandfather)
Few ordinary experiences can better point out differences between the life styles of the past and present than does turning the pages of an old family album. The costumes and background props are frequently unfamiliar to modern eyes, and occasionally the rigid poses and stern expressions of those portrayed make them seem as unreal as dwellers of another planet. And yet, with a skilled and professional photographer at work underneath the old -fashioned black hood, the scenes can be realistic and vigorous and the faces full of life and character.
I can remember spending many hours in the darkroom watching my grandfather perform these miracles with less than ideal equipment.
Charles Merritt, or 'Charlie' as he was known, was born at Ennishone (Drummond) on November 14, 1879 and married Susan Smith at Grand Falls, on April 29, 1903. Susan was a nurse and Charlie first a farmer at Ennishone, then a photographer in Grand Falls. His farm in Ennishone still stands proudly on the hill just as one drives out of Drummond toward Grand Falls. In Grand Falls, his home has been torn down to make way for a much larger dwelling on Sherrif Street and his studio which stood at the junction of Main and Portage Road has also been torn down a number of years ago. Some may still remember this odd little elogated house with long narrow windows used for that precious "northern light".
Many of his photographs are hung in the Grand Falls Museum and Falls Tourist Center, in Grand Falls..
He and Susan had two children, Ford, (My Father) born in 1904 and Cecil Allen , born in 1905. Cecil Allen died on April 15, 1916 and along with his parents is buried in Union Cemetery on the Flat in Grand Falls. Ford, operated Lawndale Farm as the family farm in Drummond for many years ( See Photo Above), however later, he moved to Caribou, Maine, where I now reside.
...(Some of above from "Grand Falls Yesterdays" by Margaret Marceau)...
Hi Donald,

Love your website but I seem to be missing in the family. I also was born in the farm house in Drummond and enjoyed growing up in Grand Falls until we moved to Caribou, Me. in 1948. We had wonderful grandparents and even more wonderful parents which made us so very very lucky to be born into our family I loved going to the hockey games with our Dad;yes,Donald even some of yours. Also going down to the baseball field and watching semi-pros playing summer baseball. Things I remember so well. Family picnics on the Salmon River Flats, going to Caribou to visit our cousins,the Tournquists. Shopping at J. C. Penney store and watching our money go up the shoots to the office upstairs where the change was made and then returned to us. The Saturday afternoon movies in Grand Falls where we traded funny books, or rather where you traded funny books and then how I would go up in the attice to YOUR ROOM and sneak in and mess them all up for you. You had three stacks, ones you had read, ones you had not read and the classics. Boy, what a brat I was. Watching our grandfather developing film in his dark room. Watching you polish your buttons on your Air Cadet uniform. Homemade icecream that Mom would make on the farm and we would lick the laddle, some good. Sleeping on our front glassed in porch in the summer. Picking mustard for Dad and some of the trouble we got into. And me being the first to be punished but then you always had to come home and face yours. We certainly deserved it. The visits to Aunt Delores and Uncle Sperry's on Christmas Eve and how beautful their house was decorated, but none compared to ours. I remember Mom telling me that when you heard me cry when I was born upstairs that you said to Dad that you thought it was a cat. I remeber spending many hours playing hockey out in Nan's garage on the dirt floor with frozen water on it. We didn't really play but we thought we were. We would hit that puck so hard into the back wall it was funny that we never made a hole in it. I also remeber us skiing on the hill up behind Taylor's house and coming a long way down, sometimes crossing the main road on our way home. Our wool ski pants that we wore and when we fell, probably me more than you, they would pill up with little balls of snow and when we got to Nans she would take the big broom to us out in her shed with all her strength. I remember that at times she would almost knock me off of my feet with her brushing. I remember the frosty, cold nights when we would walk down to the skating rink to skate, you could see your breath against the lights. Those were the good days. I also remember climbing in the barn up onto the beams and jumping off into the hay. One time I think you told me to jump on the other side, and there was straw over there and I went right straight down to the bottom, gullable me. We just could not have grown up in a much better time. I remember dancing on Namp's big shoes, made specially for him because of his rheumatoid arthritis, watching him drink raw eggs because someone told him it would cure arthritis, listening to Gabrial Heater on the floor model radio, listening to the Green Hornet, Innersanthom (?) spelling, the Long Ranger and Tonto and many more. Feeling the warmth of the oil heater in Nan and Namp's living room. I am sure that you must also remember many more and I would love to hear about them.
Rememer I love you very much and that we share such a wonderful heritage.
Love, Marilyn
(Click on the above text to go to their site.)
The Tingley-United Association is an international family organization, with members residing in both Canada and the United States. Its present active membership is over four hundred Tingley Family households. The society meets biennealy at various locations in both countries.

Members of this association are decendants of Palmer Tingley who sailed from England in 1635 on the ship Planter. He landed in Charlestown, Massauchusetts Bay Colony, and later located in Ipswich. His son Samuel, and grandsons, Samuel and Thomas Tingley, were residents of Malden in the Bay Colony and later these grandsons settled in Attleboro. Therafter, succeeding generations with their familys moved northward into the Canadian provinces and southward, spreading throughout the thirteen original American colonies. Today, Tingleys can be found in all provinces and in all the states of both countries.